With your gift of $50 or more to Bridge To A Cure Foundation, along with our appreciation you'll receive the new SuperClara coloring book!
SuperClara presents answers in a way that instills comfort to the child battling a terminal disease and at the same time provides a much-needed injection of courage. It also serves as inspiration to anyone who is discouraged for any reason; it puts life's challenges and disappointments into perspective. It helps people of all age be more appreciative of their present circumstances.

For other ways to support our mission to accelerate the pace and success of childhood caner cures, please visit our Support page.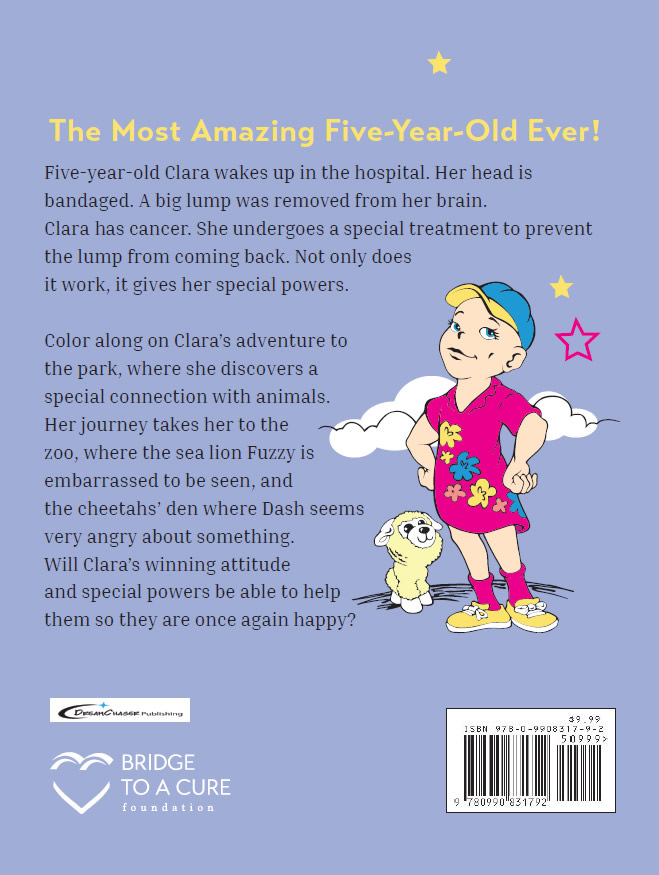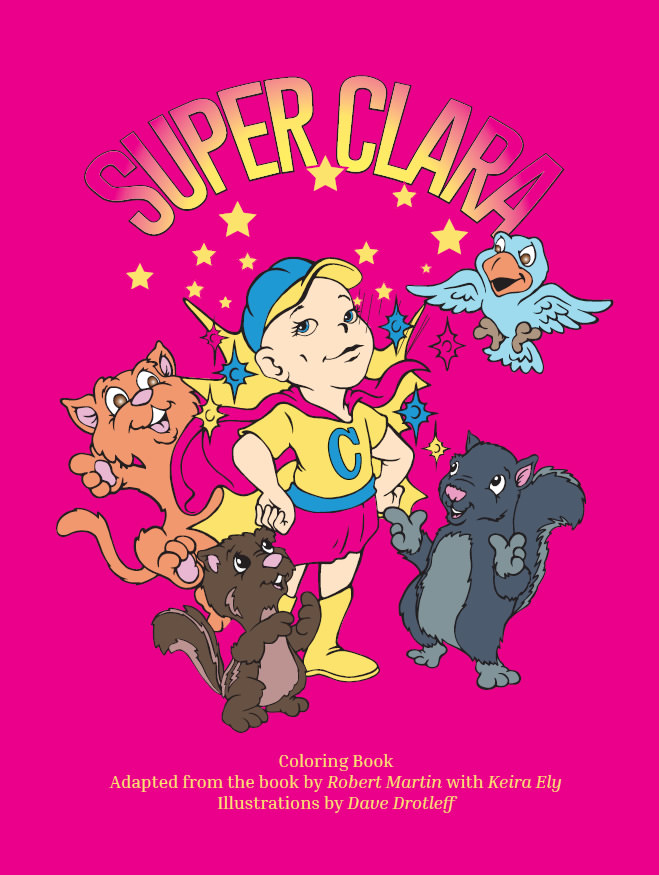 The Most Amazing Five-Year-Old Ever!
Color your way through the an extraordinary adventure with Clara, a five-year-old girl that is super positive and super happy. If something disappoints, she smiles it away. If something is wrong, she does her best to fix it.
Clara learns that she has brain cancer. Her treatment requires surgery, radiation, and chemotherapy, and although she is afraid, she maintains her positive attitude. Following the radiation treatment, Clara discovers that she has special powers that allow her to connect with animals in extraordinary ways. She can tell what they are feeling inside, understand what they are saying, and they can understand her. Clara visits a park where she discovers a special connection with animals. Then, her parents take her to the zoo, where the sea lion Fuzzy is embarrassed to be seen, and the cheetahs' den where Dash seems very angry about something. Clara quickly recognizes that fear, embarrassment, and anger are the same feelings she experienced with cancer and the cancer treatments. She responds to their plight with her winning attitude and special powers, helping them to overcome their negative feelings, making them happy once again.
The Real-Life SuperClara!
To her family and friends, Clara was the bravest and most courageous person they've ever known. The book SuperClara: a Young Girl's Story of Cancer, Bravery and Courage and its companion coloring book was written by her grandfather Robert "Bob" Martin and her sister Keira Ely to capture how special she was and to let the world know.
On St. Patrick's Day, 2016, four-year-old Clara Ely was diagnosed withterminal brain cancer. Treatment included surgery, radiation, and chemotherapy. The prognoses for a successful outcome was a heartbreaking 5%. That was the beginning of their family's journey to find a cure. As Clara fought with optimism and courage the agony her treatment imposed, her family consulted with many of the most prominent childhood cancer researchers and oncologists, attended cancer conferences, and explored experimental treatments. Sadly, their efforts failed.
On October 8, 2017 Clara lost her heroic battle. Our country's system of childhood cancer research failed Clara, as it does thousands of suffering children and families every day. Inspired by Clara's courage and positive spirit, Bob created 
Bridge To A Cure Foundation
, a 501(c)(3) nonprofit charitable organization. He is determined to remedy the issues he uncovered during his four-year journey of discovery.