BRAVE THE SHAVE, the first annual Bridge To A Cure fundraising initiative, raised over $20,000 for St. Baldrick's Foundation's childhood cancer research initiative.
Children and their families impacted by a devastating cancer diagnosis were supported in an unprecedented way in Southwest Florida on St. Patrick's Day, Friday, March 17th. Bridge To A Cure teamed up with St. Baldrick's Foundation to bring community heroes together to raise funds for St. Baldrick's childhood cancer research funding mission.
The fundraiser was held in memory of every child whose life has been impacted by childhood cancer, including Clara Ely, Bridge To A Cure president Bob Martin's granddaughter. Clara was just six when she lost her battle with brain cancer. Her courage and optimistic spirit through that journey motivated the team of event volunteers, sponsors, and fundraisers.
Why Do We Shave?
Cancer is the number one cause of death by disease among children in the U.S. In fact, 42 shocked American families learn that their child has cancer every single day. And childhood cancer is a fight lost by 38 agonized children every week. Unfathomably, just four drugs have been developed for the treatment of cancer in children since the 1980s. And for childhood brain tumors, cancer's deadliest form, none have been developed. Twenty years have passed, yet survival rates for children with many types of brain tumors have not budged. That's why Bridge To A Cure Foundation is focused on curing brain tumors. Because if we cure brain tumors, we've achieved our life-saving mission to reduce childhood cancer deaths 50% by 2030.
The Bridge To A Cure Foundation coalition works tirelessly to connect people, information, and assets to propel new treatments and cures for childhood brain cancer—an effort that is transforming an underperforming healthcare research system by emphasizing open science, shared data, and collaboration. This initiative was boosted in a new and impactful way thanks to Bridge To A Cure's partnership with St. Baldrick's Foundation.
Partnering With St. Baldrick's To Conquer Kids' Cancer
With over $325 million in grants funded worldwide, St. Baldrick's Foundation is the largest non-government funder of childhood cancer research. They focus on raising awareness, raising funds for research, and ultimately providing hope for kids and families. St. Baldrick's distributes funds to worthy research projects after a rigorous evaluation by its prestigious scientific committee. In this way, Bridge To A Cure can assure BRAVE THE SHAVE donors that their dollars go to the best opportunities to advance cures.
BRAVE THE SHAVE was held at Bell Tower Shops, a modern open-air mall, last Friday afternoon. Many amazing businesses stepped up to help make BRAVE THE SHAVE a big success, with more than $20,000 raised. A special thank you is due to event sponsors Bell Tower Shops, Rivet Brands, Beasley Broadcasting, and the Boston Red Sox organization.
For fundraising participants, St. Patrick's Day meant shaving their heads to show solidarity with brave cancer-fighting children. It was a bold and inspiring act. The "shavees" created a unique link for friends, family, and community members to donate to the effort, and in turn, committed to helping conquer kid's cancer.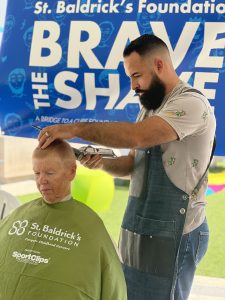 SWFL's Everyday Heroes Show Up Once Again
The event involved dozens of firefighters, neighbors, and friends — even passing shoppers. It was heartwarming to see Cordi, a German visitor to Fort Myers, shave her head right there and then. In knowing the event was going to an important cause, volunteers and other attendees cheered on each shavee as they revealed their new looks.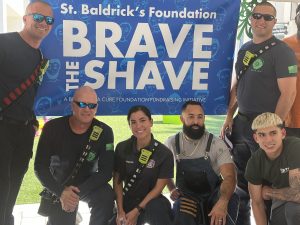 Two fire departments, the Fort Myers Fire Department and South Trail Fire & Rescue, were especially inspiring. These incredible individuals volunteered to fundraise and shave their heads as teams. The team raising the most money for childhood cancer research was South Trail Fire and Rescue, which raised over $7000. As a thank you, they received tickets to spring training game tickets and a framed autographed image of Carlton Fisk hitting the winning home run in the 1975 World Series courtesy of the Boston Red Sox.
In addition, individual shavees competed to  raise funds in exchange for a shave. Michael Rhodes of Team Rhodes raised $6350 to take the gold "Conquer Kids' Cancer" medal of honor.
Bridge To A Cure couldn't have done it without your help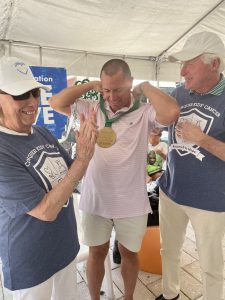 There were more than a dozen volunteers who helped make BRAVE THE SHAVE possible — each using their gifts and what time they could give to ensure an amazing event. Perhaps the unsung heroes of the day are the barbers, who donated hours of their time to make sure each shave reflectedwell on the shavee. Barber Nick Romero stayed the entire event and shaved a dozen heads — he even provided beer trims!
Bridge To A Cure extends our deepest appreciation for the support of so many kind individuals, teams, community members, sponsors, and friends. Without this support, collaboration, and care from those who believe in the mission, a lot more children would suffer needlessly at the hands of children's brain cancer. Together we ARE making a difference in speeding up the pace of desperately needed treatments and cures for kids.
If you missed the event but would like to contribute, visit the BRAVE THE SHAVE donation page here. Proceeds support St. Baldrick's Foundation.
To learn more about the event and see additional photos, follow us on Facebook.