FORT MYERS, Fla., June 2020 – Bridge To A Cure Foundation announced Peter Tombros, Executive Board Chair and Acting CEO of NeuExcell Therapeutics, as the newest member of its Board of Directors.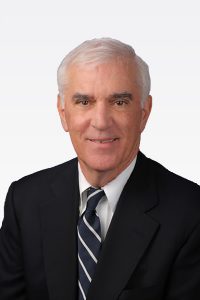 President and Board of Directors Chairman of Bridge To A Cure Foundation, Robert Martin, welcomed Tombros to the organization. "Peter's extensive experience addressing the unique challenges of biotech research will provide valuable insight to the Foundation's mission to overcome the barriers that have limited progress in childhood cancer research," he explained. "His willingness to join us is testament of the unique approach Bridge To A Cure Foundation is taking to transform childhood cancer research."
Tombros brings to Bridge To A Cure Foundation leadership in the pharmaceutical industry. His experience includes eight years as President and CEO of Enzon Pharma, where he grew the company into one of the top 20 biotech firms in the United States. Prior to that, Tombros spent over 25 years with Pfizer Inc. in a variety of senior executive positions. He currently serves an emeritus role as Professor and Distinguished Executive in Residence in the Eberly College of Sciences BS/MBA Program at the Pennsylvania State University. In 2015, he was selected "Financial Times 2015 Director of the Year."
Prior to joining the Board of Directors at Bridge To A Cure Foundation, Tombros served on eight different publicly traded pharmaceutical company boards, and has been involved in a wide variety of board matters including CEO succession, corporate restructuring, financing, regulatory (FDA, SEC) dealings, and corporate governance issues.
About Bridge To A Cure Foundation
Bridge To A Cure Foundation, a 501(c)(3) charitable organization, raises funds to modernize childhood cancer research. Dedicated to healthier, happier kids, the organization's action plan to accelerate the pace and success of childhood cancer research connects the people, information, and resources needed to propel life-saving cures. For more information, visit BridgeToACure.org.