We must unify behind families devastated by childhood cancer.
Pharmaceutical companies here in the U.S. invest millions of dollars in cancer drug development, and advances over the past few years from giants like AstraZeneca, Johnson & Johnson, Merck, and Roche are pushing the boundaries on combination therapies, cell therapies, and other novel approaches. This in turn, has pushed biotechnology firms into the realm of investor darlings. With this influx of investor cash, these companies are able to spend millions investing in even rare cancers.
Good news — for adults across the country. Unfortunately, this market dynamic leaves childhood cancer patients out of the picture. Because, although childhood cancer remains the number one cause of death by disease among kids in the U.S., there simply are not enough of these cases to capture investment.
And the federal government has not done much better. Over the past decade, they've invested just 4% of the National Cancer Institute's budget for research into childhood cancers — just 2/10ths of a percent in healthcare spending overall.
Some may assume that breakthroughs for adult cancers are equally effective for those found in children. But childhood cancers are different in origin and presentation, so the therapies developed to cure adult cancers do not translate to childhood forms of the disease.
In addition, the toxic treatments used to cure cancers of, say, a 65-year-old, may work okay to extend that person's life for few years, which is the goal of that treatment. However, the toxic effects of the treatment on a growing body can be devastating — to future growth and development, reproduction, brain function, nervous system, mental health — and on and on.
In fact, 95% of all childhood cancer "survivors" will experience lasting, sometimes life altering, effects from noxious treatments they were given that were developed back in the 1950s and 60s. This is the sad reality that families and children diagnosed with cancer face: outdated, adult treatment options with horrifically painful side effects. And a whispered truth in childhood cancer: a child may die "cancer-free" from the effects of the harsh treatments that did in fact, eliminate the cancer.
Of those kids who survive, 95% are likely face chronic health conditions, secondary cancers, cognitive impairment, and a shortened lifespan. And for their families? At nine times the cost of the average childhood hospital stay, caretakers of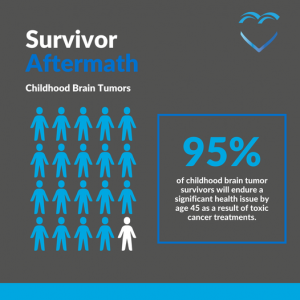 childhood cancer patients also may contend with financial ruin.
That's why parents and grandparents, aunts, uncles, and other loved ones feel compelled to step up in any number of ways in desperate need to advance treatments and find cures. Families have founded more than 200 childhood cancer foundations in the U.S. Many of these fund specific research projects or give aid to other families financially and emotionally devastated by a childhood cancer diagnosis.
Some have become activists who lobby Congress for better funding, often sharing their stories of pain, disappointment, and struggle with any official or aide who will listen. Some hold local fundraisers from bake sales to car washes for cancer fighting organizations. And some simply share their stories their friends, neighbors, and colleagues — many of whom have no idea that this is the reality of a childhood cancer diagnosis.
The fact is, apart we will not be as effective as we can be together. That's why Bridge To A Cure Foundation — founded by a grandfather who lost a young granddaughter to a brain tumor — is calling on childhood cancer foundations to unite. We're calling on the childhood cancer research community to transform the way it conducts research and shares information. And we're challenging the federal government to do better when it comes to funding childhood cancer research.