We are sparking collaboration to solve the immense challenges of  building a comprehensive database to fight childhood cancer.
At Bridge To A Cure Foundation, we sometimes hear praise such as "Congratulations on securing the national childhood cancer database initiative from the NCI!" While we are proud of our work building the groundwork for a National Childhood Cancer Database, we know that this is not the end, but only the beginning.
It's just not acceptable that childhood cancer remains the number one cause of death by disease for kids, and a source of suffering and worry for so many families. We must keep pushing for the breakthroughs needed to find cures and effective treatments for the 16,000 kids diagnosed annually, and the countless children and families already battling cancer.
We believe building a robust and comprehensive database is the most important thing we can do to speed the delivery of effective treatments, and even cures. Yet there are many obstacles that lie in the way, including the immense challenge of harmonizing data of many different types and from many different sources.
As part of our mission to connect the people and resources needed to find cures, we are teaming up with one of the leading institutions on the Pediatric Cancer Data Commons initiative (PCDC), The Volchenboum Lab at the University of Chicago. They are doing the painstaking work of creating a universally shared language to make data mining viable.
This work is critical to address substantial challenges inherent in creating a national effort to sequence childhood and young adult cancers as outlined in a report of the Board of Scientific Advisors on the Childhood Cancer Data Initiative (CCDI).
CCDI is the government initiative to create a national database. PCDC is a member of the CCDI that is helping to shape how this new database will function effectively. PCDC has been working since 2004 to create lexicons (standardized language) for each form of childhood cancer so that the information in the data is consistent and can be clearly understood. Part of that work requires overcoming logistical and patient privacy complexities in existing datasets.
For example, the Therapeutically Applicable Research to Generate Effective Treatments (TARGET) program applies a comprehensive genomic approach to determine molecular changes that drive childhood cancers. Its goal is to guide development of more effective, less toxic therapies.
The usefulness of any data depends largely on being able to connect it to other sources of information. For instance, genomic data in TARGET is much more useful when connected with clinical information being compiled by our partners at the Pediatric Cancer Data Commons. But connecting them relies on a privacy-preserving linked patient identifier. The NCI-funded Children's Oncology Group (COG) solved the issue by having the Biopathology Center at Nationwide Children's Hospital in Columbus, Ohio, replace patient-identifying data with a code that can be publicly displayed while preserving patient privacy.
This is just one example of the challenges of creating a seamless database. There are many other issues relating to policy, regulations and privacy ethics that will have to be addressed, as well as other technological, logistical and human resource hurdles that must be overcome.
These include the need for:
Computational biologists: Research into promising "targeted therapies" that disable cancer cells in specific ways is fueling a push to understand the basic mechanisms of cancer growth. This is creating massive amounts of data and driving demand for "translational researchers with computational, analytical, and clinical trial expertise who can turn data into concrete knowledge."
Visualization tools to extract and exploit information from genetic and molecular profiles and to develop artificial intelligence algorithms that can "understand" and respond to data.
Data architecture and solutions to adapt to innovations of platforms, structures and tools, and solve problems such as sequentially analyzing and aggregating data on different clouds.
Global reach. We need to develop integrated analysis with large databases on other platforms in other countries to give researchers into childhood cancers access to all the information they need.
Working with organizations such as The Volchenboum Lab and others, we are working to increase collaboration to address these and other challenges.
September is Childhood Cancer Awareness Month
In dedication of Childhood Cancer Awareness Month, we're giving you a new opportunity to help support our mission and the fight against childhood cancer.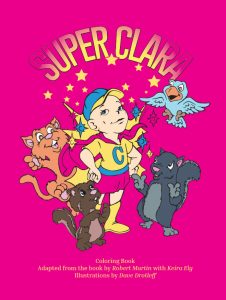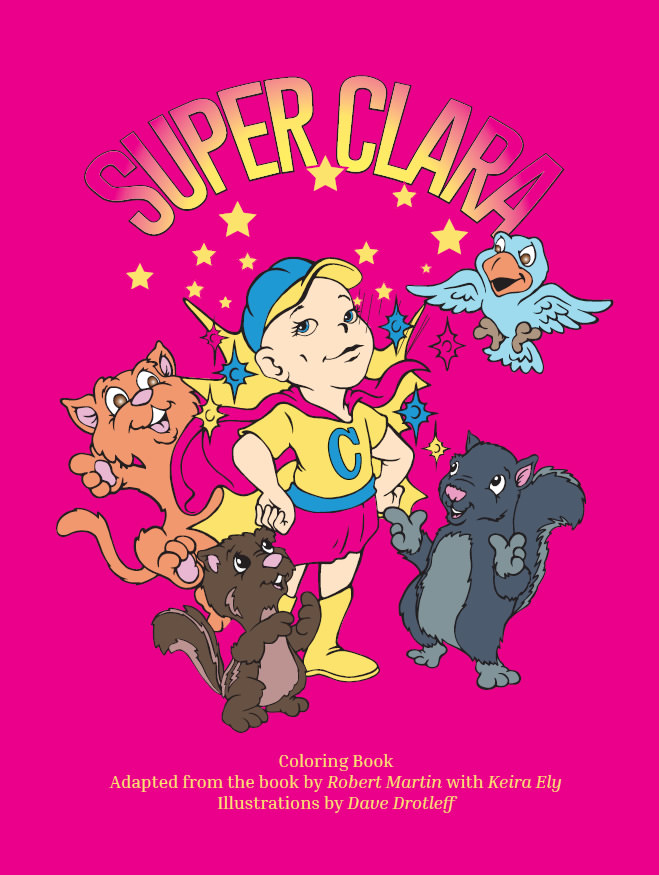 With a gift of $50 or more to Bridge To A Cure Foundation, you'll receive the new SuperClara coloring book. Kids color along on an adventure sure to inspire fun and deliver an injection of courage. This uplifting story, based on the book "SuperClara — A Young Girl's Story of Cancer, Bravery and Courage!," helps put into perspective the challenges and disappointments we all face.
To donate and receive the new SuperClara coloring book, please click here.